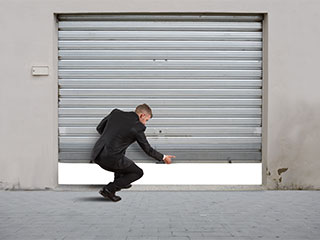 If you're a new automated door owner, you might be wondering how on Earth you would operate your door when the power trips in your home or neighborhood. Even if you're not a new owner, there is always the chance that you, personally, haven't had to figure out this little conundrum. So if you're suddenly thinking, "Well, I don't actually know how to operate my garage door without power," then let us put your mind at ease. Having no power does not automatically mean that your electric entrance is useless, no. But for the most part, it does temporarily mean it may not be as automatic as you'd like it to be.
Option one: Get your hands dirty
Everything from the garage door receiver and remote to the drive and motor on your garage needs power to run. So when there is no power, this can cause some problems for you. Now obviously, it would be a little silly if opener manufacturers forgot to consider this when they designed the system, and so almost all the time there is a manual control lever which can put your door in neutral, making it easy to lift by hand.
The lever or switch is usually a part of the opener motor itself and can be adjusted with relative ease to make your garage easy to open by hand. Even if you rarely find little need to make use of this, it's still a good idea to familiarize yourself with it and its condition. Why? Because if the lever makes it easy for you to open your door, then it would do the same for the people you'd rather keep out. Most of the time they are safely inside the garage or can be locked with a padlock, so for peace of mind when you have or don't have power, this override should be your best friend.
Option two: Backup your system
With most electrical appliances these days there are ways to ensure they keep running even when there is no power. This is especially true for appliances which add to the security of your home, because when they are not working properly, it does make your home a little more vulnerable. Investing in a backup battery, UPS or diesel generator for your garage door is often essential for making sure your home is properly secured. So that come rain, sleet or a global blackout, you can keep your systems running and providing adequate safety for your home.