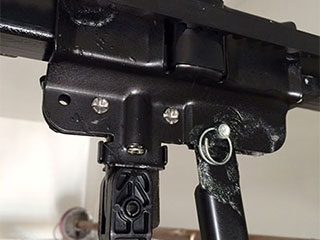 You don't have to wait until you have actual problems with your garage door to get in touch with us. Maintaining the door in good working condition is one of the best ways to avoid bigger problems and expenses that may arise when you need to replace various parts or even the entire door altogether.
Safety Tests
Our professional team can perform safety tests on a regular basis so you can always be sure your garage door works as it should. We can check the balance of the hinges, your automatic reversal system, as well as all the sensors to make sure they work well. With regular safety tests, you don't have to worry about the security of your home anymore.
Worn Parts Replacements
Sometimes, various small parts may require replacement, and we can let you know quickly if that is the case during our safety tests. By keeping on top of things and replacing minor parts such as screws and hinges timely, you can avoid having to pay more for more important repairs in the future.
Lubrication Maintenance
Over time, rust, dirt, and dust may build up on the components of the door, so besides periodic cleaning and visual inspections, it's often necessary to lubricate the door properly. The good news is that our knowledgeable team can perform lubrication in less than an hour, using the right tools and high-quality lubricants for the best possible results. Before performing the lubrication maintenance, we also check all the cables, hinges, and brackets for a sign of wear and tear.
Give our team a call today to schedule an appointment, and we'll make sure your garage door is in tip-top condition!
But wait, there's more! We also offer:
Garage Door Tune Up Services
Genie Garage Door Openers
Galvanized Torsion Spring Replacement
Garage Door Off Track Repair