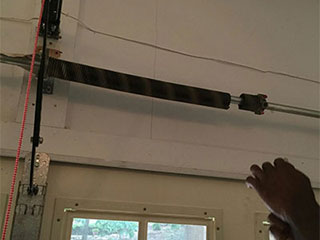 We all have such busy schedules, which means running in and out all day. This can take a toll on your garage door over time, as parts wear down from use. There's no reason to live with your door taking ages to open, and making a racket as it does! Our professional team can quickly and easily come out to assess what the trouble is, and get it fixed.
Count On Our Experience
With years of work under our belts, we've seen almost everything. That means no matter what the issue, we can take care of it with no hassle. Whether the springs that get your door to lift and close are torsion or extension, we can repair or replace either. Even better, we know the difference between whether the spring just needs tending to, or is damaged enough that it needs to be switched out altogether! Trying to sort it out yourself when you don't know what you're doing is likely to be a waste of time and money, and may even put your door in even further disrepair. It's best to let us help. That way, you can rest assured that your door will be fixed properly.
Is Your Door Slowing You Down?
Some issues may not actually be with the garage door itself, rather with the opener that needs tending to. If your door doesn't seem to want to open or shut, or creates a lot of noise as it does so, it might be time to give your opener a checkup. Whatever the model, from LiftMaster to Genie and more, we can repair or replace it as needed!
Need to Get Those Repairs Done ASAP?
That's no problem either! We offer emergency garage door repairs, so you don't have to be stuck with a door that won't work at all when you have appointments that need to be met. Thanks to being local, we can be out there to assist you in no time at all. Whatever the issue, we've got you covered.
Call Today!
Don't wait for those much-needed repairs to your door to wind up causing you a headache later. Contact Garage Door Repair Williamsburg now!
Looking for more? We also offer:
Garage Door Opener Track Maintenance
Screw Drive Opener Replacement
Extension Spring Adjustment